Jurassic World: Dominion Dominates Fandom Wikis - The Loop
Play Sound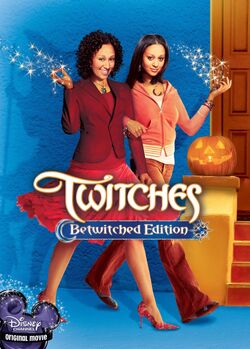 Twitches is a 2005 Disney Channel Original Movie, is based on the popular Twitches book series published by Scholastic Press. Produced by Broomsticks Productions Limited, the film stars Tia Mowry & Tamera Mowry from Sister, Sister fame as, respectively, Alexandra Fielding and Camryn Barnes.
Plot
[
]
Magical twin sisters are separated at birth by their protectors, Karsh and Ileana, when the Darkness attacks their homeland of Coventry and kills the twins' father through a war that is going on. They survived because their father, Aron, gave all of his magic to the twins and whenever they are together they are safe; their combined power is enough to fend off the Darkness. For their protection, Karsh and Ileana flee Coventry and hide the twins safely in a non-magical dimension (Earth). Camryn (Apolla) grows up in an upper-class family and becomes a social butterfly. She wears a sun amulet, and always awakes with the sunrise. She likes to draw, and unknowingly draws extremely realistic pictures of Coventry and her birth mother, Miranda. Alex (Artemis) grew up in a middle-class home with a single mother (who died recently). She wears a moon amulet and is always up until the moon sets. She is a bookworm and is always writing stories about Coventry and their mother, unaware they are true.
On her 21st birthday, Halloween, Camryn and her friend, Beth, go shopping, while Alex goes looking for a job. At a fashion store, the two sisters meet for the first time. Alex goes running from the store, and Camryn goes after her. When she takes her hand in hers, their magic is released. They bond as sisters, trying to understand what's happened to them, and get to know about each others' lifestyles. This is when they meet Karsh and Ileana, who tell the story of Coventry, which Alex has been writing in her journal, thinking it was only a story she created. Alex doesn't want to take any part in restoring Coventry's light, and leaves with Camryn. Camryn manages to convince Alex to stay and the two bond and manage to cast a few spells (most which cause something bad to happen to Karsh). They come up with the name Twitches, a fusion of the words twin and witches.
While at Alex's apartment, the Darkness arrives suddenly and chases them throughout the home. The sisters use their magic and barely escape. Camryn is now freaked out, and doesn't want to have any part of their destiny. She leaves for her birthday party on Earth. Alex feels as though she was abandoned, and goes to Coventry on her own. She meets Miranda, her mother, and Thantos, their uncle and stepfather.
While at Camryn's party, the Darkness once again attacks. She realizes who the Darkness is (Thantos), and goes to her sister and mother, after Karsh and Ileana were swallowed by Thantos. She makes it there just as Thantos arrives. Then it is revealed that Thantos is really the Darkness and swallows Miranda. He killed the girls' father, his own brother. Alex and Camryn combine their magic of light and love to destroy Thantos. They restore Coventry's light, and return to Camryn's home, along with Miranda, Karsh, and Illeana to have cake. The movie ends with the sisters cheering, "Go Twitches, go Twitches, it's our birthday, it's our birthday!"
Notes: It is revealed that Alex's real name is Artemis and Camryn's real name is Apolla. It is likely that they were named after the Greek Olympian Twins Apollo and Artemis, but on the contrary Apollo is a boy. Another allusion to the Olympian Twins is that Artemis is the goddess of the Moon while Alex (Artemis) wears a moon amulet and Apollo is the god of the sun while Camryn (Apolla) wears a sun amulet. Thantos is also derived from Thantos, the Greek 'grim reaper'.
Cast
[
]
Patrick Fabin

as Thantos

Jennifer Robertson

as

Ileana

Jessica Greco

as

Lucinda Camrelson

Jackie Rosenbaum

as Beth

Arnold Pinnock

as David Barnes

Karen Holness

as Emily Barnes

Jessica Feliz

as Nicole Carmelson

David Ingram

as

Aron

Kathryn Haggis

as

Housekeeper

Albert Howell

as

Loud Man

Natalie Krill

as

Salesgirl

Geri Hall

as

Store Manager

Lisa Ng

as

Partygoer

Gabriel Plener

as

Zorro

Sharon McFarlane

as

Lucinda's Mom

Lance Green

as

Fisherman

Scott Fink

as

Fisherman

Tim Campbell

as

Fisherman

Anna Hardrick

as

Talking

Kasia Vassos

as

Beautiful Woman

Samantha Slan

as

School Teacher